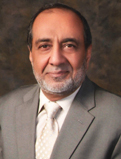 Mr. Muhammad Siddique Memon
Chairman / CEO
Chairman's Profile
Muhammad Siddique Memon presently BS-21 grade officer of Pakistan Administrative Service, started his career in Civil Services of Pakistan on 16-10-1984. He has varied Administrative, Staff and Corporate Sector experience.
During his service spanning over 29 years, he has served as Administrative Secretary of Planning & Development, Education, Finance, Population Welfare, Land Utilization (Board of Revenue), Livestock & Fisheries, Local Government and Sports Departments etc. Moreover, he also served as Director Survey, District Coordination Officer, Cane Commissioner, District Magistrate, Managing Director Sindh Small Industries Corporation, Secretary Sindh Public Service Commission, Chairman Sindh Text Book Board, Managing Director Hyderabad Development Authority & Director Administration National Accountability Bureau Karachi, earning experience in the fields of Social Development, Planning, Finance, Human Resource Management and Corporate Affairs.
Academically, he earned his Masters degree in International Relations from Sindh University. In addition, he has completed training / courses from National School of Public Policy, Lahore and Columbia University USA.
During the course of the career has had working interaction with International Financial Institutions like World Bank, Asian Development Bank, Islamic Development Bank and donor agencies like USAID, European Union, DFID, Bill & Melinda Gates Foundation & JAICA.
He has also served as founding Director on the Board of Sindh Bank besides being Director on the Board of ENGRO Power Company.
He is currently also serving as provincial Commissioner Sindh Boy Scouts Association and was awarded "THE SILVER CAMEL" in recognition of his contributions in promotion of scouting.